What is Talk2Lab?
Integration of smart devices in a lab environment
"Talk to" Alexa to retrieve real time data from your laboratory
Use sensors to monitor temperature, water flow and laser power in a laser lab
Alerts and warnings through Slack for out of specification readings
Readings and camera views displayed on interactive dashboards
How does Talk2Lab Work?
Access sensor data through Slack and Echo dot Devices
Uses Node-RED & MQTT for data transferral
Access data through dashboards, voice interface and web interface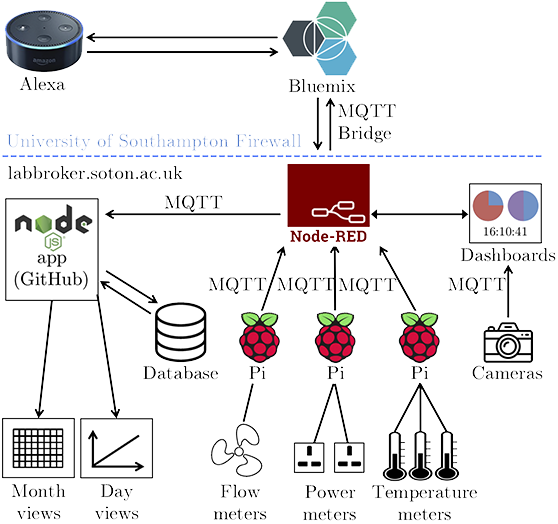 Why Talk2Lab?
Labs have yet to adopt smart technologies; remaining primitive compared to home automation systems
Improve access to useful laboratory data
New Interaction methods in laboratory environments
Allow scientists to have hands-free retrieval of data
Where is Talk2Lab?
Developed in a physics laser lab at the University of Southampton
Sensors monitor lab environment:

Temperature
Water flow rates
Electricity Consumption
Vacuum Pressures

Sensors are linked up to MQTT broker for dissemination of readings
What is the future of Talk2Lab?
Expansion in number of sensors
Process more complex queries
Control display screens / dashboards
Record data & images in lab books
View camera feeds for image analysis
Combine different instrument readings to diagnose equipment problems using Machine Learning